First Encounter
Welcome to Misgard! Your first battle under the guidance of Brynhildr.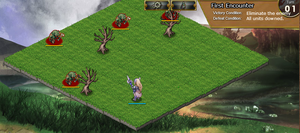 | Encounters | Drops |
| --- | --- |
| Goblin Minion x4 | 100 Gold |
| | animal fur |

Note*Brynhildr will be an ally in this battle
Ally Stats

Enemy Stats

Battle Remarks
Edit
If  your crew is taking too much damage bring them to any of the Prologue battles along with a healer (or two) and let Brynhildr take care of the enemies while you gain free health.